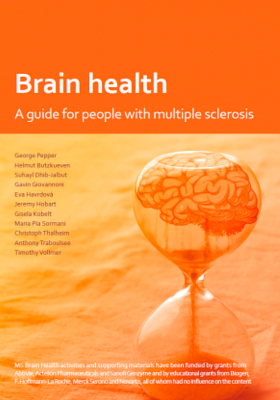 This short guide is a resource to help people with multiple sclerosis (MS) understand how they can keep their brains as healthy as possible and request the highest possible standard of care from healthcare professionals. It explains how people with MS can put into practice the recommendations from the report Brain health: time matters in multiple sclerosis.
Although there is currently no cure for MS, our vision is to help people with the disease to take control and take positive action to maximize their lifelong brain health.
The guide is available in English, Chinese, Croatian, Czech, Danish, Dutch, French, German, Greek, Hungarian, Indian-Bengali, Indian-Hindi, Indian-Tamli, Indian-Telugu, Italian, Norwegian, Polish, Portuguese, Romanian, Russian, Slovakian and Spanish, via the download button below.